Bloomington

High School




Class Of 1970
Welcome to the Bloomington High Class of 1970 Alumni. We are fast approaching 50 years since our graduation. We will begin planning for a 50 year reunion before long. We need your help in a number of areas.
Please make sure all your contact information is up to date.

If you are in contact with any of our classmates, encourage them to update their information or register if they never have.

Look over our "In Memory" area and contact me if you know of any additions or corrections.

Any suggestions for our 50 year reunion is gladly welcomed.

Look over the list of missing classmates and contact me if you know where any of them are.
We look forward to having a wonderful reunion next year and hope to see you all there.
George Ferguson
Site Administrator
---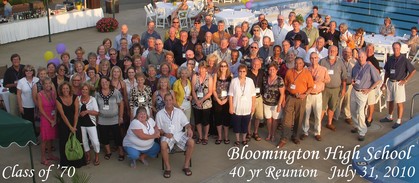 ANNOUNCEMENTS
Hey Guys and Gals,
It's time to dig into all the old boxes, pull out the old photo albums, and send me some pictures. How about prom and home coming pictures; fun and games; special events; etc. Send me what you've got.
Oh, don't forget to annotate the pictures to identify those unforgettable faces we've forgotten!
Thanks,
George F
---
There are classmates out there who may not have Internet access or an email address. If you know of anyone in this situation, please give them the following information and I will get their information posted.
Thanks, GF
Send Classmate Profile information to:
George Ferguson
1701 E Empire St Suite 360-193
Bloomington, IL 61704
309.846.8625