Bloomington

High School




Class Of 1970
Welcome to the Bloomington High Class of 1970 Alumni. We are fast approaching 50 years since our graduation. The dates have been set:
AUGUST 7th & 8th
We need your help in a number of areas.
Please make sure all your contact information is up to date.

If you are in contact with any of our classmates, encourage them to update their information or register if they never have.

Look over our "In Memory" area and contact me if you know of any additions or corrections.

Any suggestions for our 50 year reunion is gladly welcomed.

Look over the list of missing classmates and contact me if you know where any of them are.
Check back often, as we will be adding information as we plan.
We look forward to having a wonderful reunion this year and hope to see you all there.
George Ferguson
Site Administrator
---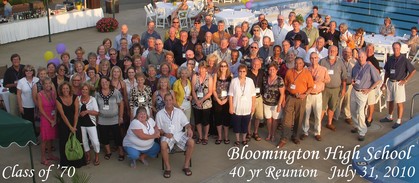 ANNOUNCEMENTS
Hello Class!!
I just received some exciting news from Jennifer Sneed. Many of you may remember our Junior year exchange student, Yoko Ishikawa. Well she will be joining us for our 50th!!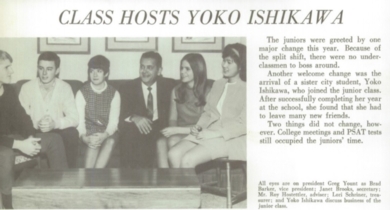 ---
Hey Guys and Gals,
Many of you have started updating your address and email information. Now it's time for the next step! We need you to get some pictures and life stories out there. They will make great conversation starters when we meet together again.
Oh, don't forget to annotate the pictures to identify those unforgettable faces we've forgotten!
Thanks,
George F
---

The late Shelley McClure, Bob Craig, Dave Tomkimns and Amy Brown of the BHS Class of 1970 joined Kris Slava, Kevin Barlow and me in April 1969 to strage "Death of a Salesman." After 50 years, a videotape of that perfomance has surfaced -- which I'd like to share with Bob, Amy, Dave and Shelley's family. It just may be the only sound-and-picture recording ever made of Shelley McClure in performance. You can see it on You Tube at "Death of a Salesman BHS 1969."
---
There are classmates out there who may not have Internet access or an email address. If you know of anyone in this situation, please give them the following information and I will get their information posted.
Thanks, GF
Send Classmate Profile information to:
George Ferguson
1701 E Empire St Suite 360-193
Bloomington, IL 61704
309.846.8625