Bloomington

High School




Class Of 1970
Welcome to the Bloomington High Class Of 1970 web site. We hope you will look around, update your profile and leave some interesting tidbits about life over the last 40 years. Our 40-year reunion has now come and gone, but this site will remain for years to come. It was a great time with greater people. Keep in touch often because there are already rumors of "mini-gatherings" in the air.

---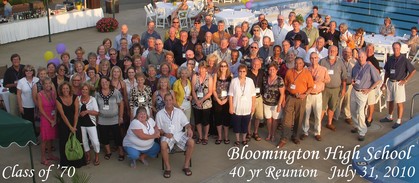 ANNOUNCEMENTS
Hey Guys and Gals,
It's time to dig into all the old boxes, pull out the old photo albums, and send me some pictures. How about prom and home coming pictures; fun and games; special events; etc. Send me what you've got.
Oh, don't forget to annotate the pictures to identify those unforgettable faces we've forgotten!
Thanks,
George F
---
There are classmates out there who may not have Internet access or an email address. If you know of anyone in this situation, please give them the following information and I will get their information posted.
Thanks, GF
Send Classmate Profile information to:
George Ferguson
1701 E Empire St Suite 360-193
Bloomington, IL 61704
309.846.8625