In Memory
Kathy Lockenvitz (Brownfield)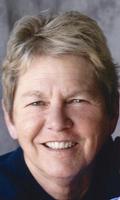 NORMAL — Kathy Jo Brownfield, 64, of Columbia, Mo., passed away Wednesday (Sept. 14, 2016) at her home, surrounded by family.
Kathy was born Aug. 4, 1952, in Normal, to Harold D. and Beverlee J. Lockenvitz. She graduated from Bloomington High School. Kathy was married to Dennis Dean Brownfield on June 26, 1971; they were married 45 years.
Kathy worked for Mitsubishi Motors North America for 20 years. She was a proud and active member of UAW Local 2488, making significant contributions during her many years of service.
A devoted wife and loving mother, Kathy spoiled her boys. Kathy loved retirement, especially spending time with her grandchildren. She enjoyed playing slot machines at the casino and visiting with family and friends. Kathy had a special place in her heart for St. Jude Children's Research Hospital and her beloved Chicago Cubs.
Kathy is survived by husband, Dennis; son, Triston (Angela); cherished grandchildren, Grace Elizabeth and Drew Addison; stepmother, Dorothy Lockenvitz; sisters, Chris (Tyler) Abercrombie and Marcia (James) Lewis; and brothers, Larry (Jenny) Zook, James (Annette) Zook and Paul Richter; many wonderful nieces and nephews; treasured pets, Lily and Addie; and many dear and special friends both near and far.
Memorial donations may be given to Boone Hospital Hospice or St. Jude Children's Research Hospital in Kathy's name. The family of Kathy Brownfield wishes to thank all of their friends, family, and wonderful health care workers who have made such a positive impact on their lives during her two-year battle with lung cancer.