In Memory
Richard Robbins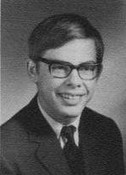 Richard Robbins BLOOMINGTON Richard Dennis Robbins, 50, of Bloomington died at 10:45 p.m. Wednesday (Feb. 12, 2003) at Galesburg Terrace, Galesburg. .
He was born Sept. 23, 1952, in Bloomington, a son of Melvin J. and Jean Armstrong Robbins. He married Laura Jan Willcutt on Sept. 13, 1983, in Longmont, Colo. She survives. Also surviving are his mother, Jean Robbins, Bloomington; three daughters, Nicole (Andy) Ragusa, Mesa, Ariz.; and Amanda and Lacey Robbins, Bloomington; two sons, Brett and Steven Robbins, Bloomington; four sisters, Melody (Gene) Lorch and Jane (Mark) Livingston, Bloomington; Susan (Don) Roth, Pocatello, Idaho; and Stacey (Paul) Koester, Annapolis, Md.; one brother, Tony Robbins, Bloomington; and two granddaughters. He is preceded in death by his father, Melvin Robbins.
He was a member of Teamsters Local 26 and worked at Stark Excavating as a lowboy driver. He loved big trucks and his nickname was "Dickie Do 22 88." Dick was a member of the Church of Jesus Christ of Latter-Day Saints and enjoyed working on family history. He spent many years active with the Boy Scouts of America, Bloomington; Cardinal Youth Football; and Bloomington Raider Wrestling. He loved paintball and played for Sudden Impact. Family and friends will remember him for his generous heart, giving spirit, and devotion to his family.
https://www.findagrave.com/memorial/12805057/richard-dennis-robbins
https://www.newspapers.com/clip/3449463/dick_robbins_obit_2152003/