In Memory
Milo Jones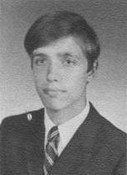 Milo Linwood Jones, Jr, 23, was electrocuted while working on a construction site north of Lehi, Utah.
Mr. Jones, a Mormon elder, was employed by a prefabricated housing construction firm in American Fork, Utah. He was at one of the firm's sites at the time of his death.
Earlier, officials in Utah had believed the accident occurred while he was doing volunteer church work at a farm building owned by the church in Lehi.
Surviving besides his parents, Milo and Maxine Brown Jones, and three sisters are his maternal grandparents, Mr. and Mrs. Lennie Brown, and his paternal grandmother, Mrs. Katie Augason of Corona, California.
https://www.newspapers.com/image/?clipping_id=2226314&fcfToken=eyJhbGciOiJIUzI1NiIsInR5cCI6IkpXVCJ9.eyJmcmVlLXZpZXctaWQiOjcxODYwOTA2LCJpYXQiOjE1NTUzND