In Memory
Charles Gillenwater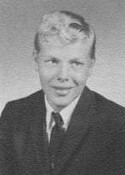 Charles Owen Gillenwater, 59, rural Heyworth, died at 7:25 a.m. Monday (Aug. 29, 2011) at his residence.
He was born Jan. 22, 1952, in Bloomington, son of Owen and Gertrude Mau Gillenwater. He married Donita J. Denniston on May 30, 1987, at Normal. Donita survives.
Also surviving are a son, Christopher Gillenwater, Madison, Wis.; two sisters, Pamela (Jim) Nagel, Bloomington, and Sherri Rodgers, Springfield; and special uncle, Howard Mau, Bloomington.
He was preceded in death by his parents; two brothers, Daniel and Ed Gillenwater; and a sister, Diane Gillenwater.
Mr. Gillenwater worked out of Plumbers & Pipe Fitters Local 99 at Bloomington for 35 years prior to retirement.
He was a member of First Assembly of God, Normal; Plumbers & Pipe Fitters Local 99; and the National Rifle Association.