In Memory
David Bagwell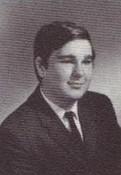 David's Obituary:
David A. Bagwell

BLOOMINGTON - David A. Bagwell, 57, of 745 W. Main St., Decatur, formerly of Bloomington, died at 6:20 p.m. Wednesday (Jan. 28, 2009) at Decatur Memorial Hospital, Decatur.

His funeral will be at 10:30 a.m. Wednesday at the Calvert & Metzler Memorial Home, Bloomington, with Capt. Scott Shelbourn, Salvation Army, officiating. Burial will be in Park Hill Cemetery, Bloomington. Visitation will be from 9:30 to 10:30 a.m. Wednesday at the memorial home.

Memorials may be made to the family.

He was born Jan. 24, 1952, at Bloomington, son of Theodore and Helen McGee Bagwell Jr.

Surviving are two sisters, Carolyn Lucas, Bloomington, and Rose McWhorter, Decatur; and nephew John (Sherry) Marrs, Decatur, with whom he made his home. Also surviving are several other nephews and nieces and great-nephews and great-nieces.

Those who were holding their arms out in heaven for him to join them were his parents.

The family would like to express their gratitude to D.M.H. for all their support during David's stay at the hospital. He served in the U.S. Army.